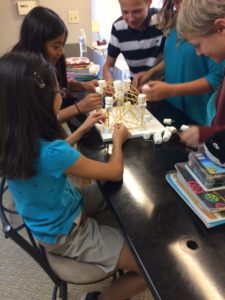 SFCA provides a well-rounded high school curriculum with offerings in English, mathematics, Spanish, sciences, social sciences and music. Advanced placements courses and dual enrollment is available to students.
Graduation Requirements:
Math – 4 Credits
English – 4 Credits
Science – 4 Credits
Social Studies – 4 Credits
Bible – 4 Credits
Enrichment – 4 Credits
Foreign Language – 2 Credits
Students must earn 26 credits and a GPA of at least 2.0 in order to graduate. A complete list of classes and course requirements are available in the Student Handbook.
The faculty is dedicated to assisting students in acquiring skills, information and attitudes that prepare them for post-secondary education or careers. All students are expected to work hard, complete tasks and fully participate in their academic program. Meanwhile, the faculty provides guidance to each student as they grow in their own intellectual maturity.